This August I joined a business accelerator program called Entrepreneurial Spark, where I have been pushed out of my comfort zone on a weekly basis and I've launched this shiny new website. One of the best parts is the people, I have met the most amazing 'chiclets' (fellow business owners), who are giving their all to follow their dreams and set up their own business. 
Pitching night made less scary with beanbags and 😀😜😎😍cushions @ESparkGlobal @CarolAnne_ES #godo pic.twitter.com/qiHqiGPVTM

— Baking Time Club (@BakingTimeClub) October 30, 2016
Being passionate about their expertise, has created fantastic products, but as a new business the one problem we all suffer from is, lack of exposure. So here I've compiled a selection of awesome gifts for Christmas for Adults and Children. Please help me make their dreams become a little bit closer to being real, by supporting a small business and buying 1 (or all) of your Christmas gifts from these fantastic hard working, dream chasing, obsessed entrepreneurs. There really is something for everyone!
Gifts for Adults
Wineman
Wineman is an independent wine merchant, selling restaurant quality wines direct to customer from the website, with a huge range of wines and a minimum order of just 1 bottle, you can get lost reading about wines from around the world.
 The Carpene Malvolti Prosecco di Conegliano gift set comes with two branded flutes, a prosecco bottle stopper and the presentation box. This is a superb gift for anyone who loves this amazing sparkling wine.
Carpene Malvoti Prosecco Gift Box With Flutes £32.95 use the discount code "BakingTime" for get 5% off all prices till December 20th 2016
The Sweetbeet Company
This jam touches each savoury and sweet taste bud you have. Great as a spread on sandwiches and perfect to elevate the flavour in burgers, our Maple Bacon Jam wont leave you looking for uses. Why not try adding some to a pan with oil to cook off meats? You can even stir it into sauces when you are looking for that extra depth of flavour. 
Perfect as a Christmas hamper gift £3.50, with 5oz of bacon in every Maple and Bacon Jam jar!
By Natalia
By Natalia is a collection of stunning jewellery which combines a modern style with powerful and ancient symbolism.
The elegant unicorn pendant certainly has the wow factor. So if you love unicorns, then you will absolutely adore this golden-coloured, very eye-catching piece of jewellery. Magical Unicorn Pendant made from Brass with Garnets £80.00 Enjoy 10% off purchases with code: XMAS10
Baking Time Club
This damask patterned rolling pin when rolled across your biscuit dough, will leave its pattern. Pattern your shortbread dough then cut out fun biscuit shapes, before popping in the oven. With 5 patterns to choose from, there is one for every Star Baker you need a gift for this Christmas. Pattern Rolling Pin £24.00 
Receive 10% off any order with code: ESPARK valid until 31/12/16
Nana Momo Makes
I've kept Nana Momo Makes in Gifts for Adults, because they offer a sewing subscription box, where you can learn to quilt, engage kids in crafts or sew your own childrens clothes. We love experience gifts, and with a 6 month sewing subscription, its the gift that keeps on giving, whilst you learn a new skill.

Nana Momo Makes, creates one off sewing kits, which are adorable and perfect for crafty friends and family this Christmas. This patchwork teddy bear has been sewn from a babies first clothes, to become a beautiful memory bear for the baby as they grow. Sewcial Club subscription is £25.00 per month.
Butler & Grace
Specialising in fashionable medical alert bracelets, Butler & Grace can engrave your personal message to any item, making a unique piece of jewellery. Tanya created a Star Baker bracelet with rose beads perfect gift for a stocking filler for those that love baking.

Star Baker bracelet £22.95. Receive 10% off any purchase with Butler & Grace with code: BTC10PERCENT valid until 31/12/16
Bonieri
Don't give boring chocolates this Christmas, treat your loved one to a beautifully boxes selection of the finest gianduiotti from Turin, with classic gianduja, dark chocolate, coffee and pure hazelnut flavours.

These delicious melt in the mouth chocolates are also suitable for Vegans, dairy and gluten free, so a win for all, apart from those with nut allergies! Bella Box Classic Grande 440g £39.95 Receive 20% off with code: ESPARK20
Lunalou Keepsakes
These friendly key rings and tree charms make wonderful stocking fillers for teenagers and adults. Made from alloy metals, they are very shiny and have cute faces. Designs include dogs, cats and our favourite....fairies. Lunalou Keepsakes provides lovely gifts, which will remind the recipient of you, everyday.
Dog Keyring £8.99 with free UK shipping.
Wow Nails By Eva
Can you imagine any design or photo printed on to your nails? Have a selection of your babies first photos, on your nails for the Christening or your favourite couple images for your wedding day. Well Eva, has a magical way of creating ANY nail design. You can choose from her own nail designs or upload your most loved photos, and tadaaa they'll be on a set of 20 false nails.

The gel nails come in a presentation box of 20 to fit all different nail bed sizes, with a kit and instructions to secure the nails as either reusable press ons or glue on, for longer lasting results. Perfect stocking filler gift this Christmas for teens and ladies. Christmas Nail set £10.00
By Cyclogical
Designed for cyclists with interior bike storage needs, GripsterTM protects walls from handlebar impact damage and minimises the risk of a bicycle sliding /rolling off a wall as a result of accidental nudges.
This is the ultimate Christmas gift for every keen cyclist you know, the Gripster comes in 8 trendy colours to co-ordinate with all bikes. Gripster £9.00
Gifts for Children
Canper
These loveable Canper Bots are here to protect you from germs and lip cuts from soda cans in fantastical style. The Canper Bots are a delightful collection of characters straight out of a child's imaginary fantasy comic book.
Canper Bots are available four to a pack and make excellent childrens' stocking fillers. Kids can trade them, mix and match, and of course, collect them all! Canper Bots are a colorful fun way to keep your kids safe from the harmful bacteria that are found on soda cans. Discover how to use a Canper here.
4 for only £5.99 

Not Before Tea
Not Before Tea is a British children's lifestyle brand, based on the Adventures of Sherb and Pip, a story written by Henry Patterson when he was 10 years old (now 12).
Loved by children and adults. A delightful little sage green door to allow fairies and magical friends to live in your home! See a whole range of magical doors and items every fairy home needs at
Not Before Tea.
Hand made fairy door £19.99.
Brain Boost

Fuelling children's curiosity and learning with our monthly educational activity boxes 
They know successful children aren't just good at Maths and English, they are also Emotionally Intelligent, Creative thinkers, and great Communicators.
The Brainboost Boxes develop these core skills and more with fun new activities each month delivered to your door, along with all the resources you need to play. Each box is tailored to your child's age and stage of development. 

Get 50% off the first box using code: ESGODO16
Marili Skincare 
This gorgeous gift set makes a perfect present for new parents for their baby and toddlers. The colourfully decorated gift box contains a plush cuddly toy, a 100% cotton t-shirt or baby grow and a delishious strawberry body wash for tear free bathtimes. All
Marili Skincare
 award winning products are organic so great for sensitive skin in the bath, and kind to all childrens and adults skin types. 
Luxury Gift Set
£29.99
Gifts for Little Hands
The SmartMax Playground XL is a magnetic construction toy that introduces young children to a world of fun. Learn about magnetism and how it has the power to attract and repel. Build ball runs and let the balls roll! Parts are compatible with all other SmartMax sets. 
Gifts for little hands are a company that carefully selects educational toys aligned to the Early Years Foundation Stage (EYFS) framework allowing you to easily support your child's educational journey at home.

£44.99 Use code for 20% off this Christmas: ES20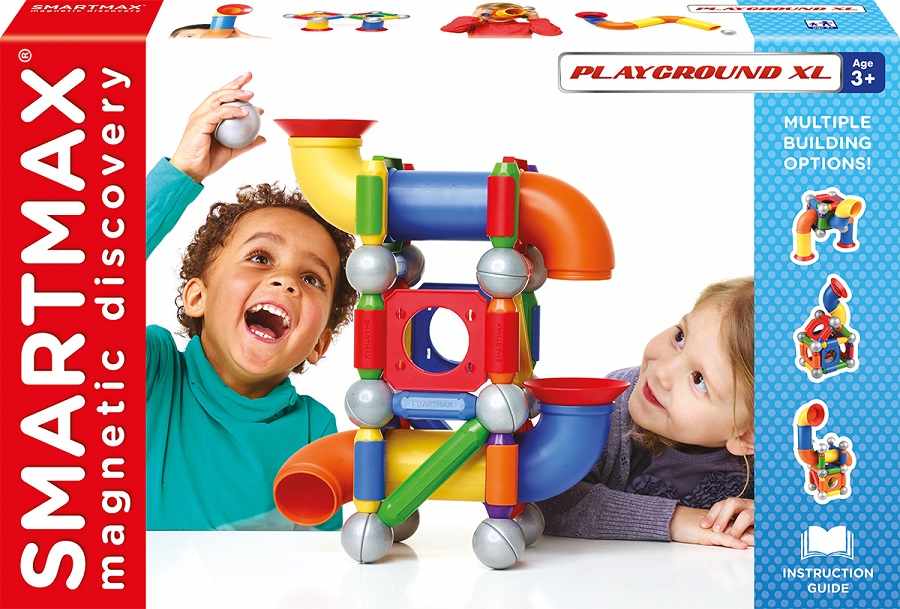 So what are you waiting for? Scroll back up the page, click on photos and go make someone's dreams come true :) 
Don't fancy buying anything today? How about sharing this post on Facebook or Twitter, so your friends can enjoy this Gift Guide.

As we say in Entrepreneurial Spark #GoDo !